Chicken Fried Rice
Traditional fried rice made with authentic flavors and spices, delicious scrambled egg and mixed vegetables.
---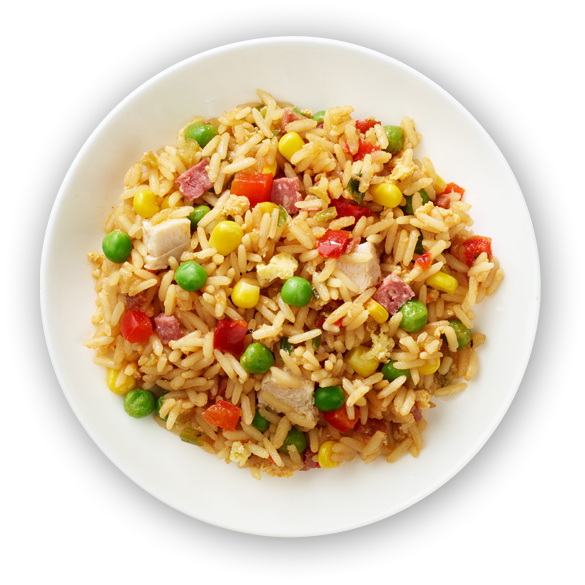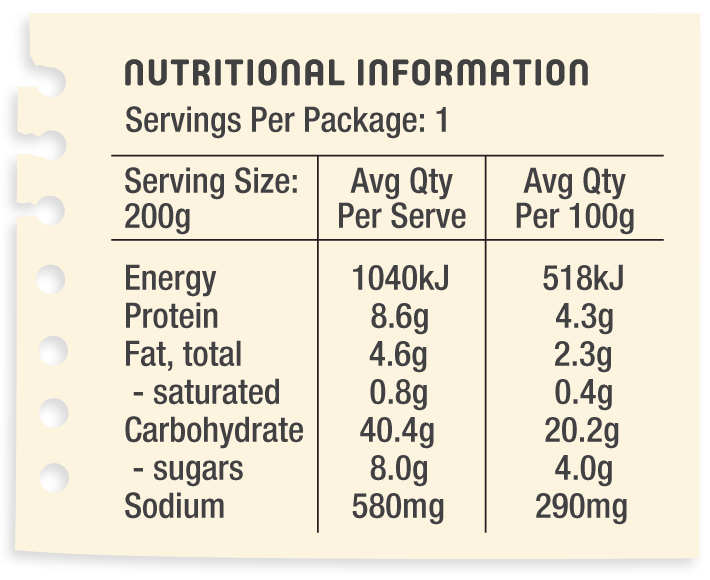 Rollover the image
to reveal a fun fact
The World record set by the Chinese city of Yangzhou for the largest serving of fried rice was disqualified soon after Guinness officials announced it.
Turns out 150kgs of the 4.19 ton dish was not fit for human consumption and was fed to pigs instead of the local school kids who were expecting it!
​Ingredients:
Cooked Rice (49%), Vegetables (Peas, Red Capsicum, Onion, Corn, Celery, Spring Onion), Cooked Egg (6%) (Egg, Water, Cream, Mineral Salt (339), Salt, Vegetable Gum (415)), Soy Sauce (Wheat), Sugar, Cooked Chicken (2%) (Chicken, Water, Salt, Vegetable Gum (407a), Spices, Mineral Salts (450, 451), Sugar), Cooked Beef (2%) (Beef, Water, Salt, Sugar, Vegetable Gum (407a), Mineral Salts (451, 452, 500), Antioxidant (316), Preservative (250), Glycerol, Hydrolysed Vegetable Protein (Soy)), Tomato Paste (Tomatoes, Food Acid (330)), Vinegar, Vegetable Oil, Spices, Water, Sesame Oil, Fish Sauce, Yeast Extract (Natural Flavour), Salt. No MSG, No Artificial Colours or Flavours. This product contains Gluten (Wheat), Soy, Egg, Fish, Sesame and Milk. May contain Peanuts, Sesame and Tree Nuts due to shared equipment.
Made in Australia from Local & Imported Ingredients